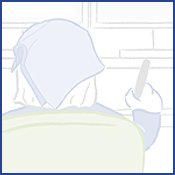 I LOVE to make visuals that play! But that's not all I do. Yes, I am an animator and an illustrator but I am also an entrepreneur, a teacher, a collaborator, a researcher, a marketer, a salesperson, a bookkeeper … the list could go on and on. The main thing I am though is a hard worker. I work hard to get the job done well and at the budget needed.
Projects I have worked on for clients have appeared across the United States in movie theaters, sports stadiums, on television, and on mobile apps & websites.
My personal work has screened at film festivals across the country and my children's animation, How To Put a Square Peg into a Round Hole, was even featured on Yahoo's home page.
I believe in a good, clean yet playful design. I believe in video that has good pacing, a story, and some personality behind it is just plain fun to watch. I believe that to achieve these ideals, a lot of hard work and experience goes into it.
So, if this fits in with what you are looking for please feel free to contact me about rates and availability. You can contact me through here. Let's have some fun and make some visuals that play!